What are Denso Twin-Tip (TT) Plugs?
Denso's Twin-Tip Technology literally features two "tips".
The first aspect of Twin-Tip technology applies the design principles of a fine wire center electrode. Originally designed to improve starting and reduce fouling in two-stroke engines, this design was found to improve performance in four-stroke engines as well. All operate on primarily the same principle, a spark plug with thinner electrodes will perform better than a traditional plug. 
There are two reasons for this, first is because a smaller center electrode requires less voltage to jump the gap. This means fewer misfires, which should be seen in higher mileage and more horsepower. The second reason is smaller center electrodes reduce quenching.
Denso's Twin-Tip technology advances on this concept by utilizing a fine wire tip on the ground electrode as well. The design delivers far less obtruction to the spark, allowing an omni-directional explosion. This further minimizes the quenching effect and results in a more effective, more complete combustion.
Available in two versions, Denso's Platinum TT features a platinum 1.1mm center electrode and titanium enhanced 1.5mm ground electrode, while Denso's Iridium TT features a 0.4mm iridium center electrode and 0.7mm platinum ground electrode.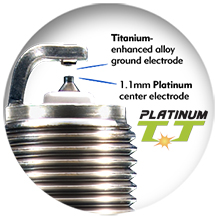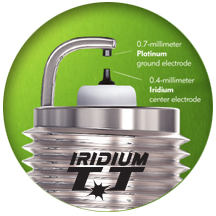 Learn more about Denso's Iridium TT Spark Plugs at DensoTT.com